One of my goals was to do more pop-up's in 2023!! Well, happy to share that our first stop is happening Saturday, February 11, 2023 -- and at such a beautiful event!  Details, below:  From Event Hostess, Author Crystal Love:  Join us for a morning/afternoon of Prophetic worship, brunch, powerful speakers, ladies talk- Q & A , "Adorning Ceremony, and much more! We ask that all ladies wear shades of pink 2624 Lord Baltimore Dr. Milford Mill, Md 21244 11am to 3pm TOPICS: "Why did I get married?" "Grieving over the past love" "Identifying the counterfeit" "When the thrill is...
---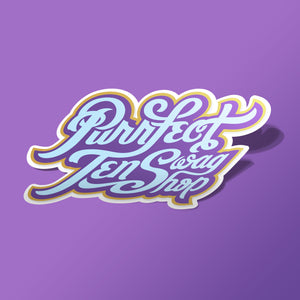 New look...same swag!!!
---
I am grateful for YOU!! Periodt. Mmmkay??? 😊 We've got a few new pins, restocks and new apparel this month that will make great stocking stuffers and gifts.  Even if you treat yo'self!!!  Get into these joggers, though!!! They are soooo comfy! They'll sell out, too....mark my word! ~Tenaeya  
---
HAPPY ANNIVERSARY, PURRFECT TEN SWAG SHOP!!! It was this time last year that I was readying the stock -- eagerly punching my first few lapel pins through backing cards, anxious on how it would all be received...by YOU!!    Well....WE DID IT!!! Thank you for your purchases, for sharing on your social media pages, and for simply visiting Purrfect Ten Swag Shop, online to see what we're all about.  Honestly, I didn't know how this creative outlet of mine would be received.  And, I'm happy that you all believed in me - that you "Picked up what I was puttin'...
---
God's got us. 
We got us. 
We gone be alright!